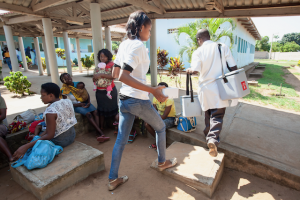 FOR IMMEDIATE RELEASE
Nexleaf will apply AI to bring more meaning on the impact of temperature conditions on vaccines.
LOS ANGELES, 5/07/2019 – Today, Google named Nexleaf Analytics a grantee of the Google AI Impact Challenge. The Google AI Impact Challenge was an open call to non-profits, social enterprises, and research institutions from around the world to submit their ideas to use AI to help address societal challenges. Through this Challenge, Nexleaf will build data models with machine learning technology to help countries estimate and predict the potency of a vaccine throughout its long cold chain journey, from arrival in country all the way until it reaches a child.
Many vaccines are temperature sensitive and exposure to unsafe temperatures damages their potency. A strong and transparent cold chain is needed to ensure every child on Earth, even in remote places lacking resilient infrastructure, receives safe and effective vaccines. "This effort provides an opportunity to create a comprehensive picture of the vaccine cold chain so that countries can fully evaluate the impact of temperature excursions on potency," said Shahrzad Yavari, Cold Chain Program Director at Nexleaf.