Nexleaf Highlighted in Commencement Address at Columbia Mailman School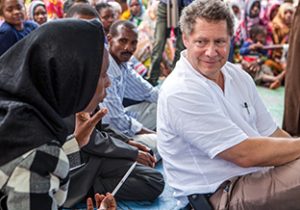 We're honored to have been mentioned by Seth Berkley, CEO of Gavi, the Vaccine Alliance, during his commencement address at Columbia University's Mailman School of Public Health. Our work champions the power of data and analytics to solve the world's greatest challenges, and we're grateful to have been featured as a guiding example to the graduates of the Mailman School.
Seth Berkley mentions in his address that mobile technology is growing at an unprecedented speed, faster even than basic infrastructure like indoor plumbing, and tapping into that momentum can benefit public interventions. Seth uses Nexleaf as an example of an innovation organization that uses tech-based solutions to create transparency and accountability at the 'last mile' of the vaccine cold chain.
Learn more about Seth Berkley's commencement.