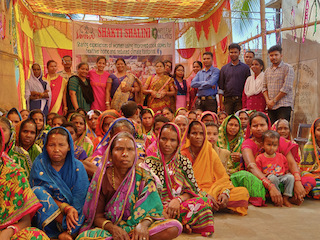 by Denisse Ruiz, Sushanta Pradhan
When Subani Pradhan received her new stove February 2016, she looked at the stove with skepticism. She questioned whether she could cook her family recipes on this stove, and whether the foods would have the same rich, smoky flavors her family liked so much. Her traditional stove, known as a mudstove, was the same type her mother used and the same type used throughout her community, and she wasn't convinced this new one would satisfy her needs.
Traditional cooking is a global problem – close to 4 million people die prematurely from illness attributable to household air pollution each year. To help rural homes transition away from pollution practices of traditional cooking, philanthropic organizations or manufacturers provide them with improved clean cooking solutions. However, distributing a clean cookstove does not mean it's being used as 3 billion people still rely on open fires to cook their daily meals.
Two years later Subani shared her enthusiasm for the stove at a culmination event hosted by Nexleaf Analytics and Sambhav in Notarpalli, India, "My kitchen is more clean than before. Earlier my husband and kids always got irritated at me due the lots of smoke produced in mud stove but now we are very happy to have improved stove in our kitchen."
A Capstone Moment for Sustained Adoption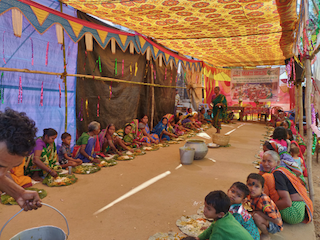 Subani is one of the 34 households selected by Nexleaf and Sambhav to participate in a trial program to learn whether adoption of clean cooking was even possible. Oftentimes, when households use the stove one time or even for a few months, implementers interpret that usage as adoption. But sporadic or short-term adoption isn't enough to deter the life-threatening effects of traditional cooking; we instead have to focus on sustained adoption as measured by sensor data.
The event in Notarpalli Sharing experiences of women using improved cookstoves for healthier homes and reduced climate footprint was a capstone moment celebrating the success and impact of sustained adoption. The community came together to orchestrate the gathering and cooked lunch for all the attendees using the cookstoves. Attendees included Chudamani Murmu, Child Development Project Officer, Nayagarh district, Tara Ramanathan, Clean Energy Program Director at Nexleaf Analytics, Ms. Sabarmatee, Sambhav, and Umakanta Nayak, Gram Vikas.
What Women Want
Pollution from traditional cooking predominantly affects women and young children since women are the primary domestic support and must keep their young children by them. That's why designing a stove that is clean, robust and meant for them is a powerful way to advance clean cooking sustainably.
During the event several women shared stories of how their user-friendly stove impacted their lives. Sukanti Pradhan ssaid, "when I was sick for 2 months and was not able to cook food for my family, my husband cooked meals for us. He was very comfortable to use this improved stove as it reduced smoke and firewood consumption." The stove seamlessly integrated into their cooking practices, and as Sukanti and severals others at the event mentioned, it had added benefits of reducing smoke and fuel consumption. And after two years of use, the stoves still had not broken. The excitement generated within this community made its way to neighboring villages, and many neighbors attended the event and asked how they could join the program.
Through their exemplary adoption of clean cooking, the women of Notarpalli are shedding light onto how organizations can restructure their efforts to create equitable access to clean energy even in the most remote of locations. It is through them that the neighbors and the sector can learn about designing programs and innovations that work for people.