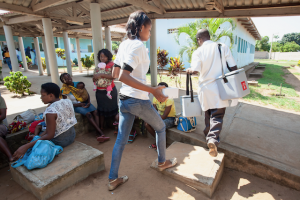 FOR IMMEDIATE RELEASE
Nexleaf will apply AI to bring more meaning on the impact of temperature conditions on vaccines.
LOS ANGELES, 5/07/2019 – Today, Google named Nexleaf Analytics a grantee of the Google AI Impact Challenge. The Google AI Impact Challenge was an open call to non-profits, social enterprises, and research institutions from around the world to submit their ideas to use AI to help address societal challenges. Through this Challenge, Nexleaf will build data models with machine learning technology to help countries estimate and predict the potency of a vaccine throughout its long cold chain journey, from arrival in country all the way until it reaches a child.
Many vaccines are temperature sensitive and exposure to unsafe temperatures damages their potency. A strong and transparent cold chain is needed to ensure every child on Earth, even in remote places lacking resilient infrastructure, receives safe and effective vaccines. "This effort provides an opportunity to create a comprehensive picture of the vaccine cold chain so that countries can fully evaluate the impact of temperature excursions on potency," said Shahrzad Yavari, Cold Chain Program Director at Nexleaf.
Nexleaf and partners have made significant strides in fortifying cold chains at the health facility level through targeted data analytics, protecting the vaccine supply for over 12 million babies born each year. Now, Nexleaf will build AI into existing information streams to predict vaccine degradation. This expanded system will align stakeholders at each level of the immunization sector and help them strategically identify, prioritize, and address specific hurdles to close the global health gap.
"We're honored to have been selected for the Google AI Impact Challenge," said Martin Lukac, CTO and Co-founder of Nexleaf Analytics. "For many years, countries have had data about temperature in their cold chains, but modeling the true effects of that temperature on vaccines has been viewed as intractably complex. With AI, we can magnify the impact of existing cold chain data to accelerate global immunization. "
As one of the 20 organizations selected from over 2600 applicants, Nexleaf will receive financial support from Google.org, credit and consulting from Google Cloud, and coaching by Google's AI experts. Next week, representatives from Nexleaf's engineering and data science teams will travel to San Francisco to begin planning and executing this project. Over the course of the week, all 20 organizations selected for the challenge will join Google AI experts, Project Managers, and the startup specialists from Google's Launchpad Accelerator for the initial phase of a six-month program (May-November 2019).
"We received thousands of applications to the Google AI Impact Challenge and are excited that Nexleaf was selected to receive funding and expertise from Google, " said Jacquelline Fuller, President of Google.org. "AI is at a nascent stage when it comes to the value it can have for the social impact sector, and we look forward to seeing the outcomes of this work and considering where there is potential for us to do even more."
Nexleaf Analytics is a non-profit organization that preserves human life and protects the planet by designing sensor technologies, generating data analytics, and advocating for data-driven solutions to global challenges.
Google.org, Google's philanthropy, supports nonprofits that address humanitarian issues worldwide and apply radical, data-driven innovation to solving the world's biggest challenges.
Learn more about Nexleaf and our growing team. Find out about open positions in engineering and beyond at https://nexleaf.org/get-involved/#opportunities.
PRESS CONTACT:
Denisse Ruiz
Communications Manager
communications@nexleaf.org